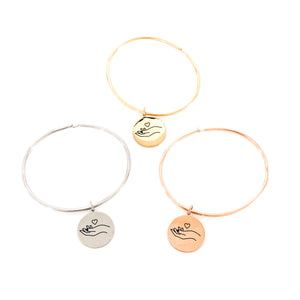 GlassHouseGoods
Self Love Bangle
Regular price
$10.00
Sale price
$24.00
Unit price
per
Self Love Bangle 
**Discontinued**
The best kind of love: Self Love. Within your own power to achieve and hold safe. A great lesson we all learn eventually, that true self love is found within our own hands, no one else's. Let this charm remind you of your worth, and self love- and that it's only yours to hold. 
Each pendant comes with a laser engraved hand signal, and GHG branding on the back. 


Available in yellow, rose or stainless steel. Each bangle comes with a hook closure. 
Self Love Bangle
Just received. Looks gorgeous! It's a gift but like the other purchases of your products I'm sure they'll be much appreciated and worn ❤️
These products are as oustanding as they are sassy!
I've had the pleasure of ordering from GHG about four times now and EVERY single time, the quality of the jewelry is amazing. I have gifted GHG items so that my favourite folks in this life will wear constant reminders of their strength, their beauty and most importantly their power AND their pain. Each inscription carries such weight, such deep meaning, and they are a constant reminder of the many paths we take through this life. It is a pleasure to support Ricki's business and you can bet your ass that I'm a lifetime customer + supporter of this powerhouse of an entrepreneur who supports humans in such meaningful ways. -Laura from Ottawa, ON
Self love bangle
This is my second bangle wit the charm hanging and I absolutely livd love it. Its so beautiful, I love wearing it with my other bangle bracelets.
---